Now that nearly 3 months have passed since our little Scruffy died, we decided the time had come to get another dog. So today, we traveled down to Long Beach to the
South Pacific County Humane Society
and picked out Sophie.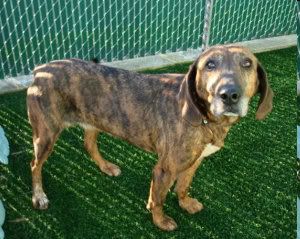 As you can see, while not a purebred, she has a lot of
redbone coonhound
in her. We don't know a lot about her because someone found her wandering in the woods and brought her to the shelter. The vet estimates she's around 5 years old.
We've never had a coonhound before; this should prove interesting. Our 15 1/2 year old shepherd/collie, Heidi, isn't quite sure yet what to make of this new canine. They've had one minor run-in, but have mainly steered clear of each other. Our 3 cats are all discombobulated, but Sophie doesn't seem particularly interested in any of them.
Anytime a new being is added to a family, it takes everyone involved some time to adjust. I'm fairly confident she will fit in...eventually.